***IN STOCK, 100% FREE EXPEDITED SHIPPING, US ONLY***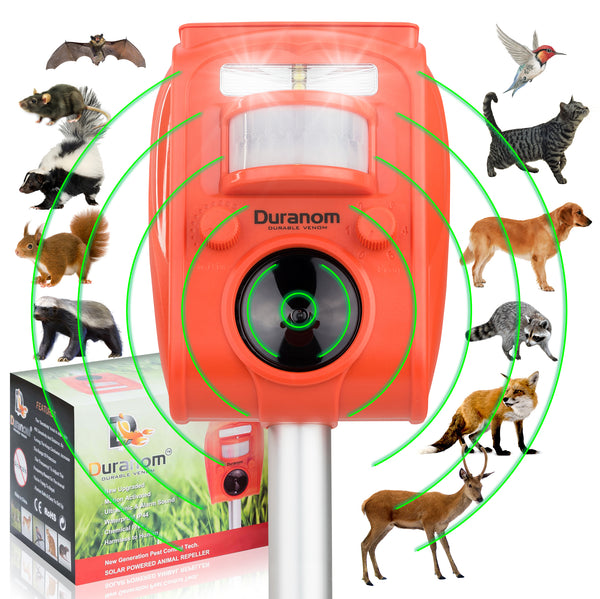 ***IN STOCK, 100% FREE EXPEDITED SHIPPING, US ONLY***
PRODUCT REVIEWS
BUY YOURS NOW -

ONLY LIMITED STOCK AVAILABLE!
BLASTS ALL ANIMALS AWAY – ULTRA-LONG RANGE - 70 METERS SQ: Animals ruining your garden, farm, lawn, and peace of mind? Duranom Solar Animal Repeller with Motion Sensor contains HOSTILE flashing LED lights, and Radiant-Blasting ultra-powerful ultrasonic sounds that INSTANTLY DRIVE AWAY mice, foxes, bats, rabbits, bears, cats, dogs, squirrels, skunks, rats, rodents and even trash dumping racoons – The ULTIMATE PEST ELIMINATOR, GUARANTEED.
ADJUSTABLE - INSTANT DETECTION & DETERANCE: 2 KNOB adjustable solar animal repeller with strobe light, and adjustable intensity and range knobs emit the IDEAL PEST REPELLING 13.5 KHZ to 45.5 KHZ ultrasonic sounds, quickly, easily and naturally EVICTING every animal that approaches 70 Meters Square at 110 DEGREES, with UNRIVALED efficiency.
SOLAR POWERED, NO BATTERIES REQUIRED – CAMPING TRIP USB CHARGER: IP44 WATERPROOF, WEATHERPROOF, RoHS and CE certified animal repellent ultrasonic outdoor system contains 3x powerful Ni-MH AA 800nAh rechargeable batteries – all ENGINEERED to defy the toughest temper tantrums mother nature throws your way. We even added a backup USB charging system to ensure you remain 100% PEST FREE even while CAMPING & FISHING.
KID & ENVIRONMENTALLY FRIENDLY – 10 SECOND INSTALLATION, NO MESS: While most pest deterrent options require you to mess with chemicals, pesticides and dead animals, Duranom animal deterrent ultrasonic pest fighter eliminates animal instruction, 100% NATURALLY. Simply STICK THE ULTRA-DURABLE ALUMINUM BASE and pest repeller in the ground, choose your settings, and watch as PESTS YOU DIDN'T EVEN KNOW EXISTED begin scurrying away, defending your garden with ease!
PEST FREE, GUARANTEED – TRY THIS RISK FREE AND DISCOVER how efficiently this powerful ADVANCED ultrasonic rabbit, duck and deer repellent even scare snakes away, sending the most aggressive animals fleeing toward safety. ORANGE colored dog digging and cat deterrent makes it easy to spot from any window, so you know your lawn, house and food supply stays safe, so go ahead, fix your animal problem - click add to cart and check out now.
Pest Free, Guaranteed
At Duranom we understand – you don't have time to watch pest after pest destroy your beautiful outdoor spaces and food supply, you need something guaranteed to work now! If you want a proven, sure-fire solution that instantly evicts pests, defies mother nature's worst temper tantrums, and allows you to peacefully kick every known animal from your garden, then you'll appreciate the secure peace of mind Duranom delivers.
Duranom Checks Off All the Boxes for a Pest Free Yard, Garden or Farm
Ideal 13.5KHZ to 45.5KHZ Ultrasonic Sound & 110 Degree Emission Angle
70 Square Meter Eviction Zone – 8 to 9 Meters at Every Point
2 Adjustable Knobs – Ultrasonic-Sonic-Strobe Light & Sensitivity Distance
Hostile LED Strobe Lights – Visible Sends Pests Scurrying                    
Environmentally Friendly
Kid Friendly
Weatherproof & Waterproof IP44 ( THE DEVICE WATERPROOF LEVEL IS IP44, WHICH IS ENOUGH TO RAINPROOF, BUT NOT SOAK. PLEASE DON'T SET IT IN LOW-LYING PLACES OR POSITION WHICH IS EASY TO ACCUMULATE WATER.
PORTABLE, SOLAR POWERED & USB CHARGEABLE – Perfect for deterring wild animals from your catch as you fish, hunt, and dine waterside.
Defends Against All Outdoor Pests Including:
Mice
Fox
Bats
Rabbits
Bears
Cats
Dogs
Squirrels
Skunks
Rats
Rodents
Racoons
And More
10 Second Installation, Zero Mess – 100% Satisfaction Guarantee
Watch in amusement as Duranom outdoor pest repellant sends animals you didn't even know we're hiding scurrying away, helping you take a deep breath, relax and finally enjoy the great outdoors. Try Duranom Solar Animal Repeller risk-free for 30 days. If for any reason you are not completely satisfied or have not eliminated your pest problem, contact us and we'll immediately refund 100% of your purchase. No question asked. 
BUY YOURS NOW - 

O

NLY LIMITED STOCK AVAILABLE!